Scaricare e installare XP Mode e Virtual PC
Rechiamoci sulla pagina web dedicata a XP Mode e Virtual PC clicchiamo sul pulsante "Get Windows XP Mode and Windows Virtual PC now"

---
La pagina successiva ci chiederà qual è la versione di Windows 7 in nostro possesso e la lingua. Selezionati questi due parametri compariranno due pulsante che ci consentiranno di scaricare:
Windows XP Mode (pacchetto contente una copia pre-installata di Windows XP SP3).
Microsoft Virtual PC (programma di virtualizzazione per sistemi operativi Microsoft).
Una volta scaricati i file, installare come suggerito Windows XP Mode per primo e successivamente Windows Virtual PC. Finita l'installazione di entrambi riavviare il PC.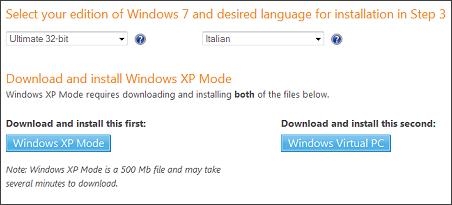 ---
Configurare Windows XP Mode
Clicchiamo su Start -> All Programs -> Windows Virtual PC e selezioniamo Windows XP Mode.
1) Per prima cosa ci verrà chiesto di accettare la Licenza, spuntiamo "I accept the license terms" e clicchiamo su Next.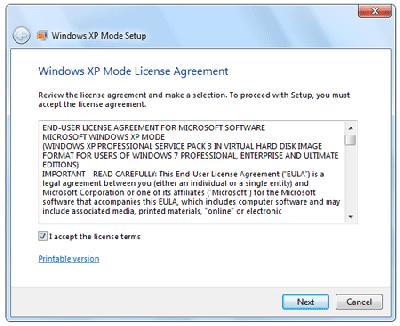 ---
2) Inserire la password per l'utente XPMuser (utente di XP SP3) e spuntare Remember Credentials per non venir più disturbati. Clicchiamo su Next.