FASE 2
Da una di queste cartelle (una antecedente al "disastro", ovviamente) copiare i seguenti file:
_ registry_user_.default
_ registry_machine_security
_ registry_machine_software
_ registry_machine_system
_ registry_machine_sam
---
nella cartella C:\Windows\tmp (creata precedentemente in ambito Console di ripristino).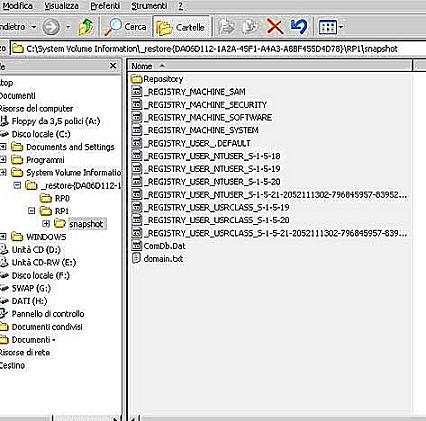 Questa é la spiegazione che Microsoft fornisce a riguardo:
" These files are the backed up registry files fromSystemRestore. Because you used the registry file created by Setup, this registry does not know that these restore points exist and are available. A newfolder is created with a new GUID under System Volume Information and a restore point is created that includes a copy of the registry files that were copied during part one. This is why it is important not to use the most current folder, especially if the time stamp on the folder is the same as the current time."
---
A questo punto:

FASE 3
riavviare col CD di XP (solita procedura nel BIOS)...premere R a richiesta.
Solita risposta alla domanda quale installazione di XP si vuole ripristinare e poi al prompt di C:\WINDOWS digitare ciascuno dei seguenti comandi seguiti da INVIO :

del c:\windows\system32\config\sam
del c:\windows\system32\config\security
del c:\windows\system32\config\software
del c:\windows\system32\config\default
del c:\windows\system32\config\system
copy c:\windows\tmp\_registry_machine_software c:\windows\system32\config\software
copy c:\windows\tmp\_registry_machine_system c:\windows\system32\config\system
copy c:\windows\tmp\_registry_machine_sam c:\windows\system32\config\sam
copy c:\windows\tmp\_registry_machine_security c:\windows\system32\config\security
copy c:\windows\tmp\_registry_user_.default c:\windows\system32\config\default

Scarica il file reg3.txt