Norton UAC - Altra utility (free - installer - beta) direttamente dalla nota software house di prodotti inerenti l'ambito sicurezza su PC. In questo caso, anziché agire sulle impostazioni generali dell'UAC, si lavora sugli alert che UAC propone.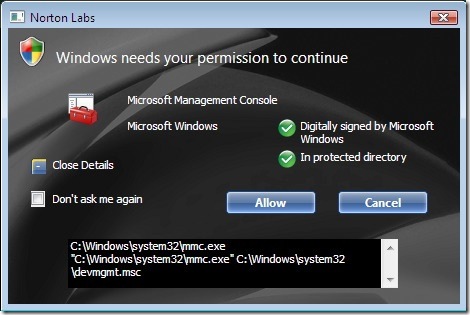 Come vedete dall'immagine qui sopra, grazie a Norton UAC il sistema non si limita più a chiedere di procedere o meno ma:
permette al sistema di ricordare la scelta dell'utente in modo da non doverla richiedere in futuro ("Don't ask me again");
permette all'utente di vedere il dettaglio del processo che si sta autorizzando ("View Details").
ATTENZIONE - Norton UAC invia automaticamente una serie di informazioni ai server Symantec per vedere quali processi gli utenti abilitano di default. Questo serve a Symantec per meglio tarare i propri prodotti di sicurezza.

---

Cito dalle FAQ del sito Norton Labs:
Q: What does Norton Labs get out of my testing?

A: DATA! Each time you see a prompt, the Norton Labs UAC Replacement sends meta information about what caused the prompt, and why, to our server. This data will be used, in aggregate, to help Norton Labs build a white list that can be shipped with the UAC replacement and LiveUpdated as needed.

Q: What do you mean by "meta information"?

A: The meta information contains file name and file hashes for the EXE that caused the prompt and the EXE that is to be the recipient of the elevated privileges. In addition, the meta information contains file name and file hashes for DLLs that were active in either of the two EXEs, response information (what option did the user choose, how quickly, and did they choose "do not ask me again"), and date/time info.
---

Consiglio finale: non disabilitate completamente l'UAC di Vista: GESTITELO!
---