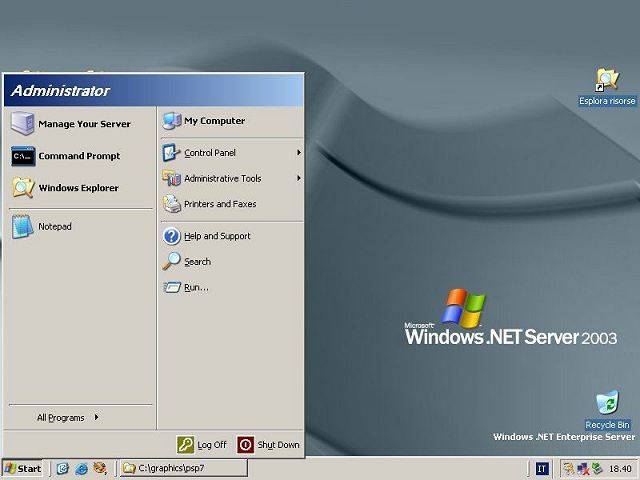 ---
Tipologie:

Windows 2003 Server è disponibile, in una gamma di soluzioni, molto più ampia rispetto al suo predecessore, Windows 2000. Solamente per i S.O. a 32 bit sono compresi:
Windows 2003 server – Web edition
Ottimizzato Unicamente per utilizzo web, la versione Web edition, supporta sino a 2 processori e 2 Gb di memoria Ram.
Sono supportati la modalità .NET, IIS, asp.net Network load Balancing (NLB) , Ipv6, Distributeb File system (dfs) Encrypting file system (Efs) shadow copy restore, servizi di stampa per Unix, Resultant set of Policy (Rsop), Windows Instrumentation, Managment (WMI), Installazione remota del S.o., Internet connection Firewall (ICF) , ed il desktop remoto, La Web Edition , premete inoltre di essere utilizzata quale Sever Member in una "Active Directory", ma non può in nessun caso fungere da "domain controller".
La versione WEB è unicamente ottimizzata per il lavoro di server Web, e non include, molti altri "tool" inclusi nelle restanti versioni.
Windows 2003 server – Standard edition
E' la versione destinata al business medio piccolo, supporta fino a 2 processori e 4 Gb di ram . Questa versione contiene tutte le opzioni della versione WEB, inoltre fornisce supporto per Enterprise UDDI Services, Internet Authentication Services (IAS), backup in remoto e removibile, Fax Service, Servizi per Macintosh, Remote Installation Services (RIS), Windows Media Services (WMS), Public Key Infrastructure (PKI), Certificate Services, Smart Card support, e gli oramai noti Terminal Services.

Windows 2003 server – Enteprise edition
Destinato quale server per prodotti HIGH VOLUME, la enterprise edition, supporta sino a 4-8 processori, 32 Gb di Ram, e sino ad 8 Node cluster.
La versione a 64bit sarà disponibile in un secondo tempo e differisce di poco da questa enterprise.
Le peculiarità , riguardano: Metadirectory Services Support (MMS) , I Terminal Services Session Directory, nonchè la possibilità di effettuare "a caldo " upgrade di memoria, per mezzo dello standard, definito: Non-Uniform Memory Access (NUMA).
Windows 2003 server – Datacenter edition
Si tratta della punta di diamante della serie, supporta , da 8 a 32 CPU, e sino a 64 Gb di Ram.
Di fatto , la versione Datacenter è equivalente alla Enterprise, ma differisce per la mancanza, del Metadirectory Services Support (MMS) e del Internet Connection Firewall, per contro può ovviamente contare sul Datacenter Program (DCP).

64 Bit Windows server edition
La Microsoft ha iniziato una limitata distribuzione del Windows Advanced Server, Limited Edition (WASLE). WASLE a 64-bit, soprattutto per trarre vantaggio dalla piattaforma di prossima generazione, a 64 bit , definita ITANIUM, al quale si è da poco aggiunta la prospettiva di upgrade al nuovissimo Itanium2.
La piattaforma in questione, supporta sino a 64 GB of RAM, 8 processori, e fino a 8-node clusters.
---