Accendiamo i motori
Assicuriamoci che l'icona di TOR accanto all'orologio di Windows sia di colore verde e clicchiamo sulla voce di colore rosso Tor Disabled in basso a destra nella finestra principale di Firefox. La voce cambia dicitura e colore: diventa Tor Enabled e verde.

---
Sei davvero protetto?
Per avere la sicurezza che la connessione Internet sia sotto la protezione di TOR, colleghiamoci al sito http://torcheck.xenobite.eu sempre con Firefox. Se tutto è configurato correttamente, viene mostrata la dicitura Your IP is identified to be a Tor-EXIT.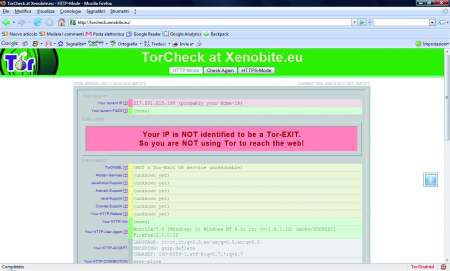 ---
Protezione a 360°
Sempre nella stessa pagina Web, clicchiamo sul pulsante Start in basso a sinistra. Partirà un breve test che verificherà la corretta configurazione di Firefox. Se tutte le voci indicate saranno evidenziate in verde, possiamo navigare in piena sicurezza!